According to the Star and Stripes, military members may no longer be able to receive retirements after 20 years of service. This move is in response to the government's inability to balance its budget and the mandate to shave $400 billion from the defense budget.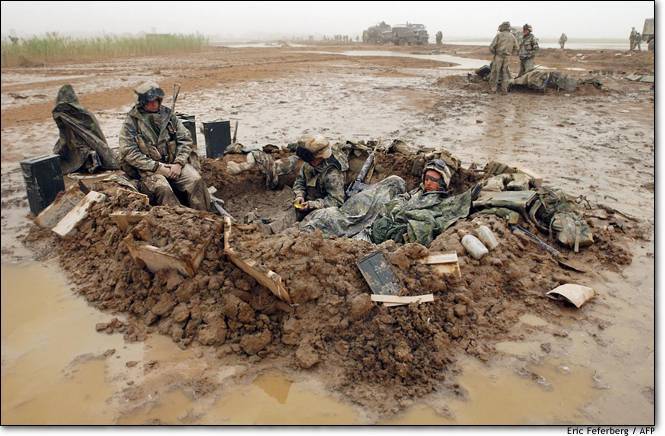 The plan calls for a corporate-style benefits program that would contribute money to troops' retirement savings account rather than the promise of a future monthly pension, according to a new proposal from an influential Pentagon advisory board.
…
The yearly contributions might amount to about 16.5 percent of a member's annual pay and would be deposited into a mandatory version of the Thrift Savings Plan, the military's existing 401(k)-style account that now does not include government matching contributions, according to the Times.
While I'm in favor of Soldiers being able to contribute to a pension plan, using benefits of troops dying and losing limbs for their country isn't the way to begin the cost-cutting discussion. There is already so many rules and regulations that prevent the military from saving money on simple purchases like daily supplies. Supply NCOs are unable to shop around for the best price on paper, pens, cords, CD-Rs, etc. Instead, regulations require us to spend upwards of 150% more on a product from an "approved" source, usually the Lighthouse for the Blind.
A perfect example of this is CD-R. The cheapest price my supply sergeant will pay for a spindle of 100 CD-R (silver top, no branding) is about $33. If I went down to the local Staples, I could get the exact same thing for $12.99. By law, I have to pay $254% more for the same product. This happens all over. We pay $.27 for a pencil we can get for a penny. We pay $39.99 for a 4GB thumb drive we can get for $5.99.
This isn't a military phenomenon. It's a federal government phenomenon. By law, the United States taxpayer pays 2,3,4 times more for virtually everything it buys. For software and equipment fielding, we are required to use small businesses. We can't go to Apple, Google, HP, etc with a list of requirements for running a TOC and ask them to create something. We're spending billions of dollars on the DCGS-A platform that is meant to accrue intelligence, surveillance, and reconnaissance, and provide real-time battlefield analysis and the current location of high-value targets. We've spend $2.7 billion on this system AND IT DOESN'T WORK like it's supposed to.
If we really want to save money in the defense budget, we need to stop wasting money on military contracts that cost millions and billions more than necessary. I don't even want to know how much could be saved if we reverted the protection of our military bases back into military hands. Currently, most military bases use contractors to serve a security personnel manning the gates and patrolling the streets. While many of these people are former military themselves, I'm sure the cost is much greater than putting some Soldiers at those gates. I like to think that a Soldier would take greater interest in protecting their base.
Everyone who knows me knows that I'm all about finding ways to save taxpayers money. And, to an extent, I have no problem with Soldiers pitching in a little financially to pay for their retirements. In our business, which is unlike any other business within the federal government, we are called up on to kill or be killed. The job hazards cannot be matched in the civilian world or any other federal agency. For that reason alone, I oppose completely getting rid of the retirement system.
20 years is a lot of time to commit to dangerous work. In most professions, 20 years would come and go and wouldn't seem like much. It's like Groundhog Day. There's no blood, sweat or tears that "paid" for that retirement. Not so with our troops. I would use this same argument for the nation's police forces. After 20 years of putting your life on the line, these guys deserve a retirement.
Of course, this idea to make Soldiers pay for their retirement isn't a new one resulting from the budget problems the federal government currently faces. This was the plan of the current administration from day 1. After taking office, President Obama angered veterans groups by pushing to charge private insurers for service-related injuries or disabilities. I even specifically asked about this misguided policy when I and a few other milbloggers met with members of his cabinet in the Roosevelt Room back in March 2009. Of course, I magically received an IG complaint from DA shortly after that in which complaints were made about comments I wrote on my blog.
Let me leave you with some words from President Lincoln's second inaugural address:
With malice toward none, with charity for all, with firmness in the right as God gives us to see the right, let us strive on to finish the work we are in, to bind up the nation's wounds, to care for him who shall have borne the battle and for his widow and his orphan, to do all which may achieve and cherish a just and lasting peace among ourselves and with all nations.
The fundamentals of that statement haven't changed, especially considering that our troops are still fighting two wars, with some coming home in boxes on a daily basis. Now to be fair, I don't think it would be uhfair to ask troops to pay about 5% into their retirement accounts. That would give us some "skin in the game." But, I'll tell you what. Treating MILITARY pay this way should be the LAST option for the federal government. Start with Congress first, move through the other federal agencies, THEN start charging those who sacrifice so much for their country!