I was standing there photographing the Marines going to the top of that big sand blockhouse. Somebody said, 'Here come the Japs!' Two squads of Japanese came out — about 12 men. They were mowed down. I had the machine gunner right in front of me. It was the only time that the enemy and our forces were in the same frame. –Major Norman Hatch, USMCR (Ret)
Norman Hatch is no ordinary Marine. He was one of the very few combat videographers during World War II that was among the fighting men in the Pacific as American forces hopped from island to island. He was armed with nothing but a pistol, which he fired only once. He only other source of protection came from the Marines he filmed.
Major Hatch came to the MilBlog Conference and was a last minute addition to the National Security Smorgasbord. The entire room was captivated by his sharp memory and stories of the events of a war that took place 65 years ago. He later went on to win an Academy Award for this short documentary that President Roosevelt had to give special permission to release due to the content.
I sat in complete and total awe of Maj Hatch while he gave his own director's cut commentary to the documentary. His memory was that of a 20 year old, and his passion for film making and his fellow Marine showed through with every word. The entire conference hall stood as he completed the final story with thunderous applause. I couldn't be more proud to be a Marine than at that moment. All the Marines at the conference were invited to the front for a picture with Maj Hatch.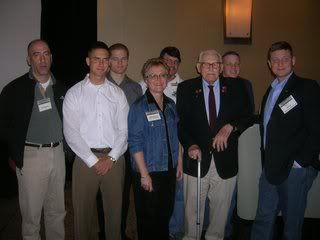 After Maj Hatch's panel, we broke for lunch. I was completely surprised when Mary Ripley of USNI invited me to join Maj Hatch and a group of other bloggers to break bread. I was very lucky to be able to sit next to Maj Hatch and across from fellow Marine and blogger Taco Bell as Maj Hatch told more stories from his time on Tarawa and Iwo Jima. I felt as history was coming to life around me and I could hear the sounds of war as he told each story. I can't believe how sharp he still is at the very young age of 89.
The most memorable story Maj Hatch told us over lunch took place after the flag raising when he returned to Washington, DC. He was a Warrant Officer at the time and a LtCol had met him with a car as he got off the plane. Hatch was expecting to return home after five days of traveling across the Pacific and the US, but that wasn't going to happen. Instead, he was taken to Henderson Hall where headquarters was during that time. The Commandant wanted to see him.
There was a story written by a reporter from Time disputing the authenticity of the second flag raising, but the he had left a footnote stating not to run it until it could be fact checked. However, it was mistakenly ran and the response to the article wasn't positive. Hatch was a first hand witness to many of the events on Iwo Jima and was able to verify that the second flag raising was exactly what it appeared to be. Now the Commandant wanted to use the image for the good of the Marine Corps, but it was an AP owned image. They would give the Corps two 4.5 inch negatives to make prints, but would charge a dollar a print. The Commandant sat for a moment and asked Hatch if there was Marine film of the flag raising.
Hatch hadn't seen the footage at this point and had no clue if it could be used to produce print images. There could be a scratch down all the frames, the film could have been out of focus, or many other things could have been wrong. Hatch decided it was worth the gamble and told the Commandant they did have film, but any images produced from it wouldn't be as sharp due to coming from 16mm film. Hearing this, the AP knew that no one would pay attention to the image credit lines and gave in to the Corps. They would get the negatives and the rights to reproduce the image for free.
Luckily, Hatch's gamble paid off. Not long after this meeting, he called out to Hollywood where the film was being put together for use. He asked if they had seen the flag raising footage and how it turned out. It was beautiful.
I would like to thank Mary Ripley for arranging the attendance of Maj Hatch, for lunch on Saturday, and for bringing a part of history to life for me like nothing else ever could. The conference was very blessed to have such a man among us.
I was told by guys on the front line that I didn't have to be there, and I would quietly tell them that I did. The public had to know what we were doing, and this was the only way they would find out. –Major Norman Hatch, USMCR (Ret)