I've just returned from the Winter AUSA Symposium in Fort Lauderdale, FL. The symposium is mainly a vendor-to-vendor conference designed to demonstrate the cutting edge of military technology. While there were major military representatives present to take an interest in the wares, for the most part this was a display of our country's resourcefulness, innovation, and might.
Walking more than 40 miles through the entire week of the conference, I had an opportunity to check out many of the new technologies being hawked to contractors and the military alike. I present to you a list of the some things that I think were the coolest new technologies.

Portable Solar Solutions – Tactical Solar Global Power Solutions is marketing portable solar solutions for mobile electric power and battery charging applications.
Deploying to combat (or a training exercise) takes a great deal of time and effort, mostly as a result of packing and unpacking gear. When we deploy, we don't just take guns, ammunition, and food. We have to take fuel to power our vehicles and generators that run day in and day out to power our computers and operations gear. We take batteries to power our laptops and other items needed for dismounted patrols. We need cables, outlets, power lines, converters, you name it! The noise pollution of constantly running generators is immense and annoying.
Tactical Solar has a solution to all that. They created "Solid State, Thin-Film, Solar Cells, these power packs provide an excellent choice for applications that require lightweight, flexible, durable, silent power." The cells are to both portable panels and integrated into tent systems. They easily fold up and can be used for a variety of operations. No longer will remotely located Soldiers be required to power up their vehicles every so often to ensure they don't run down their vehicle battery being used to charged their radars, computer systems, reconnaissance systems, and other equipment. They only need to pull one of these panels out of their ruck sack, unfold, and quietly begin collecting and storing energy.
Gone are the days of lugging dozens of gallons of fuel. No longer would Soldiers need to refill generators every 3-4 hours. No longer would troops be lugging around cumbersome batteries.
This stuff works! The tent that Tactical Solar had set up was power a coffee pot, multiple computers and other junk to prove the value, worth, and reliability of their technology. Set-up is not different than setting up any other tent system. Panels are available in tan, black or digicam patterns.
IBM Translingual Automatic Language Exploitation System (TALES) – TALES is designed to address the global growth of broadcast information. "It allows users to monitor in near real-time, foreign language news broadcasts and news websites, 24 hours a day, 7 days a week. Monitoring is done via a search interface that allows an English speaker to search foreign language content in the English language."
I tested this system and it's truly amazing. Broadcasts are downloaded and broken down into time hacks. This makes future searching easier. As the viewer is watching an Arabic news program, for example, the system will transcribe the content into a scrolling Arabic text similar to close captioning. It then translates that text into English subtitles. The near real time comes from the couple of seconds the system takes to automatically transcribe the broadcast and then convert it to English text.
Troops would be able to issue queries and get relevant foreign video streams and web pages. Imagine being able to listen to Al Jazeera as it's meant for their terrorist following and actually understanding what is being said. Manpower would be greatly reduced since a dedicated Soldier would no longer be sitting for hours on end translating broadcasts and preparing reports.
The technology is impressive and the challenges were great, the first being speech-to-text. Computers tend to have difficulties isolating background noise, crosstalk during debates, and different dialects of a particular language.
Second, formal names and cultural words and phrases not found in dictionaries had to be taken into account. Most news programs tend to mention a lot of names, organizations, and locations in their broadcasts, as well as obscure topics at times that require a technical vocabulary. The program must also understand various types of monies, times, percentages, etc.
Third, the system has to account for punctuation. A constantly scrolling text with no periods or question marks would be difficult to decode. So, the program recognizes typical speech patterns to identify the beginnings and endings of sentences or phrases.
Unfortunately, TALES is currently only available for Modern Standard Arabic, Iraqi Arabic, Mandarin Chinese, English, and Spanish. Looks like I may be out of a job soon. I tested the system and had to force myself off of it. To be able to watch and understand what is going on in the Middle East straight from the horse's mouth is priceless. Here's a screen shot: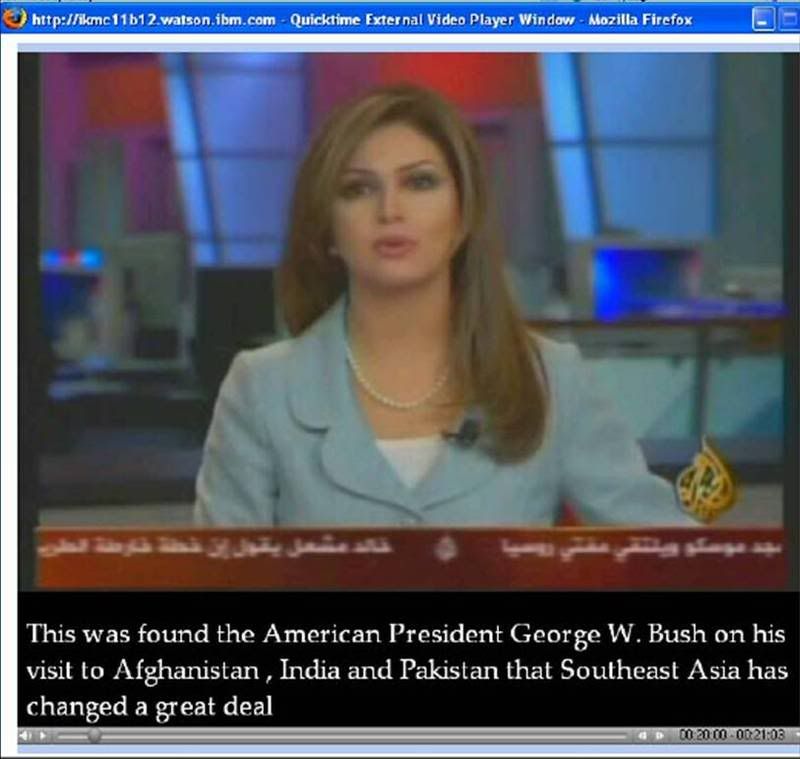 Boomerang Warrior – This is a Soldier wearable shooter detection system. The Army has already sought and implemented development in mounted systems to detect direction of incoming direct fire. Now, BBN Technologies has created a man-portable system that provides the same reliable performance and features as their currently-fielded vehicle-mounted Boomerang III system. Naturally, this one is smaller and integrated with tactical vests.
The great thing about this technology is that BW can quickly and accurately the direction of sniper fire. The Soldier on the ground can immediately place overwhelming and pinpointed suppressing and directed fire at the source and save lives. This technology will not only keep our troops alive, but it will prevent countless civilian deaths as a result of battlefield confusion by allowing for a rapid, informed and coordinated response. BW automatically provides immediate indication of hostile fire or sniper attack and localizes the shooter(s).
Incoming shot announcements are given through an ear piece. At the same time, the small wrist display gives the Soldier the range, azimuth (direction for the land navigationally challenged), and elevation coordinates of the shooters position, effectively placing a giant red arrow over his position, regardless of cover or concealment. Linked through a GPS system, the BW tracks a Soldier's movement and provides updated locations for the shooter until it is neutralized (killed for the peace-loving liberals in the house!).
It's a simple system and doesn't require a huge support infrastructure to operate. It is a stand-alone system that can be carried at the squad or team level. It provides full 360-degree coverage and operates whether the operator is standing or in the prone.
Manpack Signal Surveillance System – Called the Rogue, this system is definitely cutting edge. It is a smal, lightweight signal surveillance system designed for extended field use. It can receive up to 24 channels, which is almost unprecedented for a man-portable collection system like this. But, even more impressive is that it combines a combination of conventional radio and cellular signal collection capabilities. It's got a cool integrated DF (direction finding) that provides geolocation fixes (positions) on a nifty little map display. Yes, my inner nerd is coming out.
I used to be a SIGINT guy back in 'da day, yo, so believe me when I say this is a cool system. The entire thing weighs less than 11 pounds without the battery. The battery adds a mere 76 additional pounds. Just kidding. Two at most. So, for less than 15 pounds you're getting a dynamite product Soldiers will actually WANT to work with. When I was on the LLVI (low level voice intercept) teams, our PRD-12s weighed in at a whopping 60+ pounds!! Humping those bubbas up rocky mountains was no picnic, let me tell you!! And they didn't even collect cell phone signals. We've come a long way and the Rogue Model 650 is going to change the way the Intel Warrior seeks, identifies, and pinpoints the enemy.
And that's it for Part I. I will post Part II later on A Soldier's Perspective.