Last week, pro-troop organization Move America Forward visited Guantanamo Bay, Cuba to spread some Christmas cheer to the troops stationed at the detention facility holding some of America's most dangerous enemies.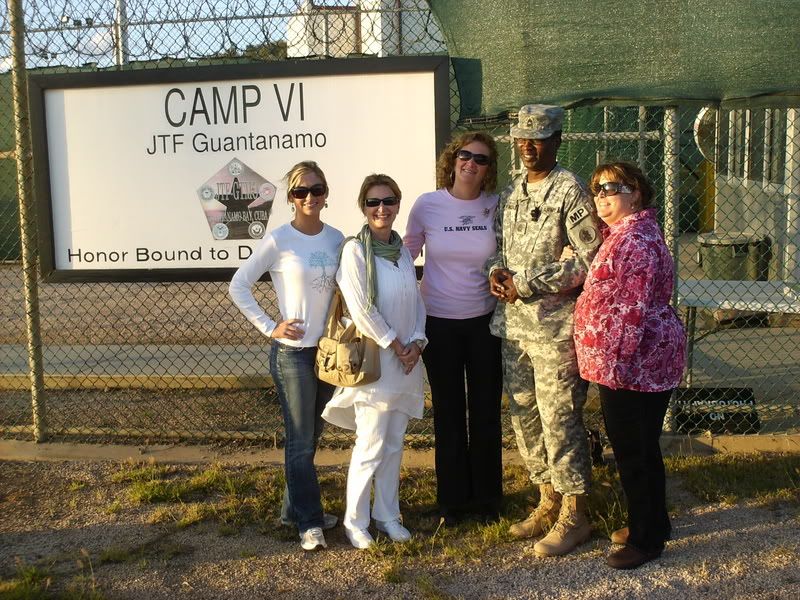 Visiting the troops at Gitmo were Move America Forward Chairman, Melanie Morgan, Miss Florida 2007 Kylie Williams, acting MAF Executive Director Catherine Moy, Director of Operations Ryan Gill, and MAF Spokesperson and Gold Star mom Debbie Lee.
"I can assure you that these detainees… live in comfort," Catherine Moy said of her first-hand account. "Even the most dangerous are given movie nights if they behave, and they get to sit on an overstuffed couch in a climate-controlled room. It is all too good for people who want to kill us."­
She initially felt as if she was somewhere other than the notorious detention center when she became aware that "They watch movies weekly, eat a menu of six different diets from which they choose, and they are given every consideration for their religion. The detainees at Guantanamo Bay are treated with kid gloves."
But, she was quickly reminded why many of the men are being held at the center, when "one detainee made motions to me like he was cutting my throat. These are not nice characters. It is imperative that Guantanamo Bay Detention Center stay open, or we risk putting Americans and other innocents in danger."
Delegates from Move America Forward (MAF), the nation's largest pro-troop organization, were given access to visit the Guantanamo Bay Detention Center holding some of the world's most lethal detainees (the word terrorist is not spoken inside the detention centers) yesterday. The delegation traveled to Cuba to conclude their nationwide tour to honor soldiers serving away from their loved ones this holiday season.
Soldiers at Guantanamo Bay told the MAF delegates that they are tired of hearing about the bad things politicians and the media say and write about them. It is frustrating and insulting, especially when they bend over backwards to ensure that the Geneva conventions are followed to the letter.
Gold Star Mom, Debbie Lee, whose son, Marc Alan Lee was the first Navy SEAL killed in Iraq, commented on her experiences inside the detention center; saying, "Today I looked my first terrorist in the eye. My visit to the detention center where the non-compliant worst offenders are kept revealed the dark depravity of their souls and hatred towards the 'infidels.'"
Some of the facts about the detainees that have not been reported in the media include:
- There are three medical personnel (doctors, nurses) for every ONE detainee.

- Detainees get prayer rugs, prayer caps, prayer beads and brand new Korans. The guards may NEVER touch the Korans. Only a Muslim may deliver the books to the terrorists. If the terrorists are especially good, they get a fancier prayer rug.

- They get to choose from six meal plans, which include vegetarian, vegetarian with fish, and high fiber. They are allowed to ask for fresh fruit if their fruit is bruised.

- They get to take art classes and learn how to speak English. This keeps their minds busy so they don't think of other things to do.

- They most violent and "non-compliant" prisoners stay in state-of-the-art quarters. They have air conditioning.

- They get to play games such as soccer, chess, checkers, and exercise on exercise machines. They have a foosball table, but all of the faces of the little plastic guys are cut off because they offend the terrorists – seeing them as "false idols," which is against their religion, therefore the military removed to not offend them.
In the wake of Obama's announcement to close Guantanamo Bay because of inhumane treatment, Moy commented, "The detainees here are given better medical care than our troops who are serving in Guantanamo Bay. It makes me wonder if President-elect Obama has ever been to the detainee centers or if he's just listening to radicals who have never seen the prison with their own eyes."
If you recall, this is the place that Illinois U.S. Senator Dick Durbin described as being run by "Nazis, Soviets In their gulags, or some mad regime, Pol Pot, or others that had no concern for human beings." Or, how about this comment in the Congressional Record by Vermont U.S. Senator Patrick Leahy:
"Now that may sound like an experience from some oppressive and authoritarian regime, something that may have happened under the Taliban, something that Saddam Hussein might have ordered or in the fiction of Kafka."
It is just disgusting what some American politicians are willing to say to appeal to the far left anti-military crowd in the United States. When terrorists decided to smash their TV and the TV room because a Palmolive soap commercial came on that revealed a woman's arm, what do you think our response was? Yes, we got them a new flat screen TV – although this time it is encased in hard Plexiglas so they couldn't destroy it again. Let me put it to you this way: if you children destroyed your family TV because they were mad about something, how long would it take for you to buy them a new one? Or, is a better question, how long will it be before they turn 21 and can buy their own?