A Canadian singer named Terry Kelly wrote a song called "A Pittance of Time" (you can watch the video on my YouTube page at www.youtube.com/chcknhawk). He was inspired to write the song after hearing a store announcement while shopping asking the customers to observe two minutes of silence to honor the Veterans. When the announcement was made almost everyone ceased their actions except for one man and an inspirational and moving song was created.
This November 11th, we, too, have a chance to honor our Veterans. The one day set aside each year in the United States to honor our Airmen, Sailors, Soldiers, and Marines is but a "pittance of time" in which each of us can take a moment on the liberties and freedoms that our servicemen and women protect for us. These individuals are willing to guarantee these rights for you with their very lives and we ask for just one day per year to remember and honor them.
In that spirit, the You Served blog and VAMortgageCenter.com has put together this Virtual Veterans Day Parade. In many cities across this country, our military is still disrespected as the city councils have put politics over patriotism. In honor of those patriots frustrated and powerless about this, we offer you this special parade. On behalf of each of these floats and in honor of all Veterans, the VAMC is making a generous donation to Soldier's Angels' Operation Valour-IT, which helps provide voice-controlled/adaptive laptop computers and other technology to support Soldiers, Sailors, Airmen and Marines recovering from hand wounds and other severe injuries.
Grab your lawn chair and find a good spot as we set off on our virtual "parade":
GRAND MARSHALL
Name: CJ Grisham
Blog:
A Soldier's Perspective
You Served Float: American Flag
Comments on Veteran's Day: "We owe a debt of gratitude to our veterans that cannot be realized by setting aside a single day. Veterans Day is a day to honor and pay our respects to those who chose a career in service to their fellow Americans. We remember the sacrifices made on our behalf and should seek out ways to show our appreciation. Even Veterans themselves owe a great deal of gratitude to those that came before us. They have secured a country worth fighting for on our behalf and continue to do so selflessly."
VICE GRAND MARSHALL

Name: Claire
Blog: Knee Deep in the Hooah
You Served Float: "I picked my banner image because it represents the blog that has kept me connected to my own veterans during deployment."
Comments on Veteran's Day: "Veteran's Day is a day of profound thankfulness in our home. We spend the day in grateful thought and prayerful remembrance of all Veterans, alive and fallen, past and present, who have sacrificed for this Country and for our Freedoms. We remember these things throughout the year, but Veteran's Day is our formal time of joyful and grateful commemoration of the sacrifices they have made and the benefits we have been selflessly given as citizens of a free Country."
Parade Participant

Name: LL
Blog:Chromed Curses
You ServedFloat: Gold Star Mom Float
Comments on Veteran's Day:"On this Veteran's Day, I don't just think of and remember all those in uniform who are serving, I think of their families too. The hardships they go through, the crushing losses they sometimes endure. I've been fortunate to be in contact with a few Gold Star Families and they have shared some of their stories and lives and grief and love for their children with me. And along with those who serve, they should be remembered and hugged on this day.
These Gold Star Families don't have their veterans with them for you to thank. They have memories and smiles and tears and a flag and a headstone. We owe them as profound a thank you as those who currently wear the uniform and those who stand straight and salute the flag and at one time in their lives, wore the red, white, and blue patch on their shoulder. And please, make sure to include the WHOLE family. Fathers and siblings often get overlooked for mothers and wives and children. None love more or less, none feel the loss and pain differently.
To all of you who have served, serve currently, and those who have died under our flag and in uniform, you have my profound thanks and love."
Parade Participant

Name: Troy Steward
Blog: Steward Family Website : Bouhammer.com
Comments on Veteran's Day: " I think it should be a recognized national holiday for veteran's. I.E. Employers should be mandated to give any Veteran's working for them that day off. It should not be optional. I mean if Mass. has its state Patriot's Day that employers based in Mass. are forced to recognize, why can't vets be given one more day off then the standard 9 holidays a year."
Parade Participant

Name: SSG Big
Blog: The War on Big Tobacco
Comments on Veteran's Day: "Listen. I want everybody reading this to get off the computer. Go outside and walk around until you find a party. Drink a cold beer and smoke a cigar. Flirt with the girls at the party. Drink every freedom down. Take time to laugh at the good times and bad. I don't want your prayers right now. I don't want your ceremonies or your wreaths. I just want you to enjoy the freedoms that I can't enjoy right now. And by the way, flashing convoys of soldiers when you pass them in your car on the highway is the most sincere patriotic gesture. Just wanted to clear that up."
Parade Participant

Name: Mr. Wolf
Blog: Blackfive
Comments on Veteran's Day: " A day to recognize that our country is built upon the backs of the workers who innovate and advance us, and helping to protect them and permit them to achieve, a military that is willing to sacrifice everything to give all that chance to work.
A day to remember that there are those who gave all, those that sacrificed family and personal gain to provide for others. A day to honor those who know that 'service' is a commitment- a calling.
And a day to remember those we have served with- our brothers and sisters who have made service what it is- a chance to share, to grow, and to bond with others we'd never have a chance to otherwise."
Parade Participant

Name: Greyhawk
Blog: Mudville Gazette
Comments on Veteran's Day: "It is the Veteran
It is the Veteran, not the preacher,
who has given us freedom of religion.
It is the Veteran, not the reporter,
who has given us freedom of the press.
It is the Veteran, not the poet,
who has given us freedom of speech.
It is the Veteran, not the campus organizer,
who has given us freedom to assemble.
It is the Veteran, not the lawyer,
who has given us the right to a fair trial.
It is the Veteran, not the politician,
who has given us the right to vote.
It is the veteran, who salutes the Flag,
who serves under the Flag,
whose coffin is draped by the Flag.
by Borgna Brunner"

Parade Participant
Name: Mrs. Greyhawk
Blog: The Dawn Patrol
Parade Participant

Name: Terri
Blog: A Soldier's Mind
Comments on Veteran's Day: "Veteran's Day is a day set aside for all of America to stop and think about the thousands of men and women over the years that this nation has been in existance, who have willingly made the necessary sacrifices to ensure that we as American citizens can continue to enjoy the freedoms that our nation's forefathers envisioned for us. Too many of us stop to think about why we have the freedoms and rights that we do. Veteran's Day is a day that all of us need to really do that, instead of taking what we have for granted. If not for the men and women who have served and who continue to serve, our country might not be known as "The Land Of The Free."
Parade Participant

Name: JP
Blog: Milblogging
Comments on Veteran's Day: "It's a day for us to celebrate all veterans, past and present, who have sacrificed so much for our great nation."
Parade Participant

Name: Yankeemom
Blog: Yankeemom
You Served Float: "My float is a tank with cigar smokin' Tankers all over it."
Comments on Veteran's Day:"Veterans Day is a very, very special day for me as I think of all those who wear the uniform of the greatest force in America and those who came before and all they have done for me and mine. I can never repay them, so much they have given me. But I will never forget them. They are my family."
Parade Participant

Name: Andi
Blog: Spouse Buzz
You Served Float: "A big, strong Hemi engine that keeps the floats moving forward"
Comments on Veteran's Day: "Veteran's Day is a day for my family to reflect on what it means to serve our country, and to pay tribute, in some way, to those who have served, past and present. This reflection has evolved over time for me. There were pre-9/11 Veteran's Days, and now there are post-9/11 Veteran's Days. Pre-9/11, we knew our family could become personally involved in some war, in some region at some time, but post-9/11, our family knows what it means to serve in a time of war. We have begun a tradition in our house. On Veteran's Day, we set aside time to do something, even if it's a small something, to recognize the importance of the day. Visit a Veteran's cemetery, make a small donation to a Veteran's Charity, wear a flag pin on a lapel, call a friend or family member who is serving. There are tons of possibilities, and while reflection is nice — and important — doing something tangible, for us, makes the day even more special."

Parade Participant
Name: Indian Chris
Blog: Wednesday Hero
Comments on Veteran's Day: "We should never forget what these brave Men and Woman do for us. They sacrifice so much and ask so little. Take the time to thank and remember these people this Veteran's Day. Just one "Thank You" can brighten up their day."
Parade Participant

Name: Toni
Blog: Bear Creek Ledger
Comments on Veteran's Day: "Veteran's Day is a day to appreciate the service and sacrifice of our Veterans toward keeping our country free and safe. I think about those amazing American Revolutionary soldiers, their courage to fight against all odds for something so idealistic as the right to live in a free society. I think about each generation of Americans who have had to fight to keep this liberty. It's important to promote and recognize this day so Americans and their children don't forget the blood and sacrifice it has taken to keep our freedom and liberty."
Parade Participant

Name: Kathi
Blog: Mail Call! Supporting the Troops
Comments on Veteran's Day: " I think it's important to always honor, and remember, our veterans."
Parade Participant

Name: Flashbangfury
Blog: Fury's Fiancee
Comments on Veteran's Day: " I can't think of a symbol other than our American Flag that could represent my Veteran's Day float. Countless Veterans have worn her, saluted her and sacrificed so much for this flag and our country. Our flag is a source of pride for our Veterans and I believe it symbolizes their strength, courage and honor. Our Veterans have stood for us and fought for our freedom. Every day we should honor our Veterans, not just one day of the year. Thank you to all our Veterans!!"
Parade Participant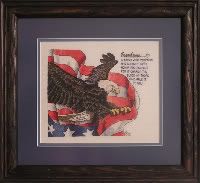 Name: Miss Ladybug
Blog: Miss Ladybug
Comments on Veteran's Day: "Where would we be today without our veterans? On Veterans' Day, we should honor all our veterans, from the Minutemen of the Revolutionary War who won our independence from England, to those who fought to preserve the Union during the Civil War, the Doughboys of World War I, the Soldiers, Sailors and Marines of World War II who defeated the Axis Powers in Europe and the Pacific, and the ones who fought communism on Korean Peninsula and in Vietnam, and in more recent years, those American Warriors who defeated Saddam Hussein after he invaded Kuwait, to today's Veterans who fight against the Islamic terrorists around the world, giving the people in Afghanistan and Iraq the opportunity to determine their own destinies instead of living under repressive regimes, as well as all the veterans who played a part throughout our history in preserving our freedoms and bringing freedom to people around the world."
Parade Participant

Name: Earl
Blog: Just the Library Keeper
Comments on Veteran's Day: "I have never felt the need for Veteran's Day, but I always wanted the country to accept my service and that of all the others that wore the uniform — and I have always felt betrayed by my countrymen and politicians for Vietnam (not the fighting there – for the laughing at us being fools enough to think we had honor and dignity…) well, be a better person than I, and support your service people – don't throw them away, they will give everything for your protection – everything."
Parade Participant

Name: Lela
Blog: Harmless Beyond a reasonable doubt
Comments on Veteran's Day: "Veteran's Day should be about something more than a day off from work, or a day to get your Christmas shopping started, or a day to rake your fallen leaves. Veteran's Day is a day of Rememberance. It should be about remembering those who put their hopes and dreams on hold when duty called. It should be about remembering your grandfather, uncle, or cousin who served in the military. It should be about remembering the boy or girl who lived down the street who is overseas right now, serving our Country in the armed forces. Most of all, Veteran's Day should be about remembering just why it is that you're proud to be an American."
Parade Participant

Name: Mr. Hooah!
Blog: Delta Bravo Sierra
Comments on Veteran's Day: "Every day is or should be Veteran's Day. Our country would not exist were it not for the martial spirit of our fighting men throughout the ages. These men made great thoughts concerning freedom and liberty a reality. The price paid in blood, sweat, and tears must never be forgotten."
Parade Participant

Name: Susan
Blog: Susan Katz Keating
You Served Float: "A float covered with pansies in the colors of the Korean War Service Medal, with a banner reading, "Never Forgotten.""
Comments on Veteran's Day: "This is in honor of my Dad, who served in combat in Korea. He is no longer with us, but I have his CIB on my desk where I can see it every day. I will never forget that his service to America meant the world to him. I am grateful to all verterans, and hold them in my heart always. On this day, though, I specifically want to honor my dad and the soldiers who served with him in the not forgotten war."
Parade Participant

Name: KY Woman
Blog: Little Drops…..Into the pool of life.
Comments on Veteran's Day: "This Veteran's Day, I stand proudly to honor the men in my life who have served The United States so well. 4 generations of my family's men. The past, the present, and the future… May no one forget the sacrifices and hardships they and scores of their brothers have made over the years to protect our freedoms from the tyrants of the world. What would our country be without them?"